[php] wp_nav_menu(array('menu' => 'Products Sub Menu')); [/php]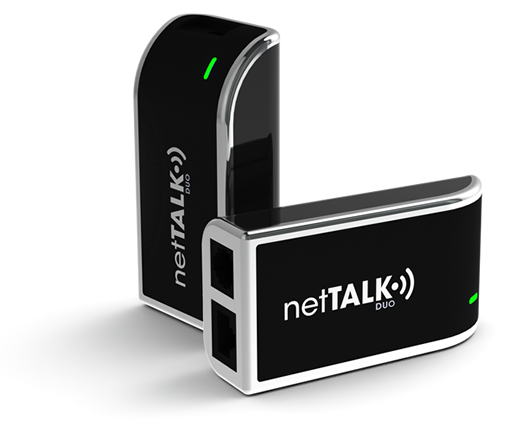 Product Overviews
Everything you want for home phone service
Fire Your Phone Company® and never pay a monthly phone bill again. netTALK is everything you want and expect from a traditional home phone service, except the HIGH COST!
netTALK is an easy-to-set up and use, lowest cost voice over IP (VoIP) home phone service. netTALK DUO Wi-Fi, netTALK DUO and netTALK DUO II are the devices to make it easy to save and enjoy clear quality calls with your friends/family.
Millions of people are using internet access to replace home phone service. netTALK is the best option for you. All you need is high-speed internet, a home phone and a netTALK DUO. Simple and easy! See why you should become a netTALK DUO owner!
Easy to use
netTALK DUO products are easy to set up to make FREE Local and Long Distance calls over the internet with or without a computer. Setup in seconds with easy to follow instructions and everything you need is included in your box.
No Contracts
Fire your phone company forever because with your purchase of any netTALK DUO product, service is included and "pay as you go" for additional years with no contracts or long term commitments.
No Monthly Bills
Stop paying and receiving monthly bills! Less hassle and stress, so you can sit back, relax and enjoy a full feature phone line that comes with any of your netTALK DUO device.
No computer needed
netTALK DUO does not require a computer. You can simply connect your DUO to a home phone and your high speed internet, activate your device and account. Then you are ready to go!
[php] include '/var/www/wp-content/themes/nettalk/inc/calculator.php'; [/php]

"netTALK DUO Wins Editors Choice Award from PC Magazine"

"netTALK DUO: Cheap VoIP Calls, No PC Required"

"netTALK DUO Does VoIP Without a PC"

"netTALK DUO Delivers on Promise of Replacing Your Landline Connection.

"The great thing about the netTALK DUO is that it really can replace your landline"

"2012 Review Authority Best in Category Winner VoIP Services"